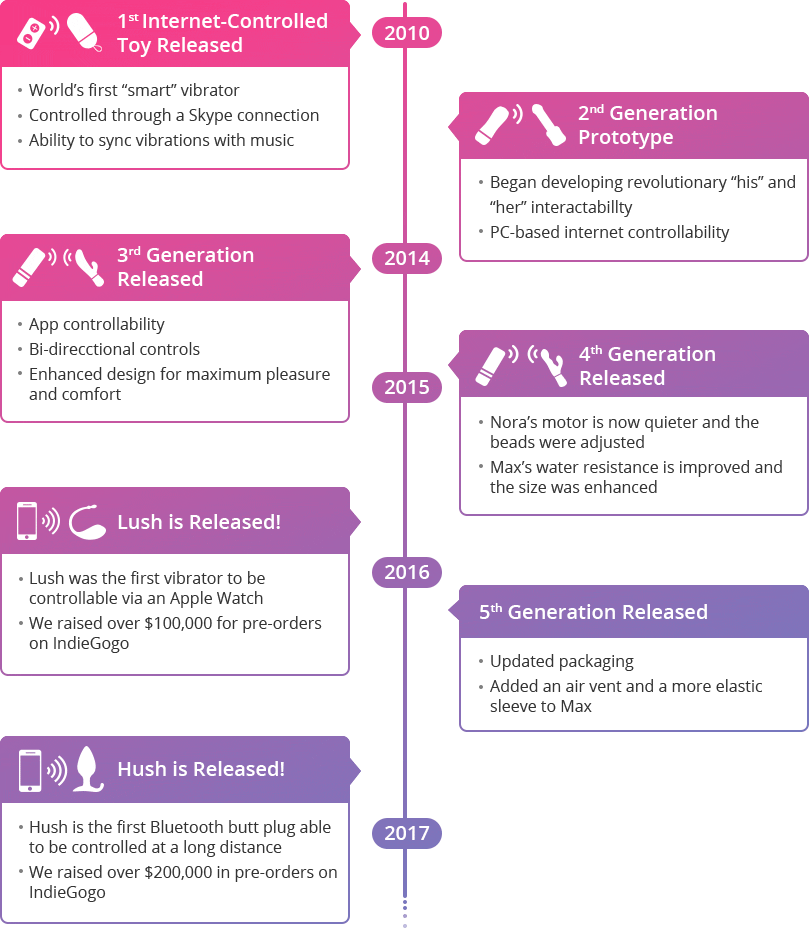 Lovense sex toys are the culmination of five years of research, development and many long hours. How did this journey begin? Well, in 2009, the founder of the company was in a long distance relationship. Lack of sexual intimacy was a serious pain point in the relationship and sparked an interest in teledildonics. 
The following year, Remote Pleasure was born. It was a revolutionary remote control vibrator which used Skype to control it from a distance- one of the first of its kind. It pleased thousands of couples all over the world. But we knew we could improve. 
Between 2011 and 2012, research continued and prototypes of the first two-way interactive, teledildonic sex toys were built. However, the design and technology wasn't up to our standards. We went back to the drawing board and utilized smartphone bluetooth technology, which is the basis of our current toys. 
First released in late 2013, Max and Nora were the first app-based, sex tech toys of its kind. Nora was the first bluetooth rabbit vibrator and Max was the first bluetooth male masturbator. Over time, we've continually optimized both the software and the hardware to ensure it's one of the top options for people in long distance relationships. 
Since releasing Max and Nora, we were always interested in expanding our product line. Based on our own bad experiences with wearable bluetooth vibrators and traditional remote control vibrators, we decided to focus on a toy for public play. We spent over a year testing and optimizing before launch to ensure it didn't have the same issues that other products on the market have. In mid-2015 we finally launched Lush, a powerful remote control bullet vibrator which has tons of features via our new app. The response was amazing- it raised over $100,000 on the IndieGogo crowdfunding platform! 
Our intention was to launch an egg vibrator and a Bluetooth butt plug at the same time, but things just didn't work out. The plug was giving us so many issues during development- the launch date was constantly being pushed back. After more than 18 months of development, we were finally able to launch in mid-2016 and the response was incredible. We raised over $200,000 in pre-orders via IndieGogo. One of the most successful sex toy crowdfunding efforts ever!
Behind the scenes, the Lovense team continues to work hard to bring sex tech into every bedroom. Some toys that are close to launch are a bullet vibrator, a wand, a prostate massager and a panty vibe. If you're interested in our new products, you should follow us on instagram (we usually preview new products there):

AND sign up for our mailing list!
(we usually offer a large discount on new products during launch!)